European Heritage Label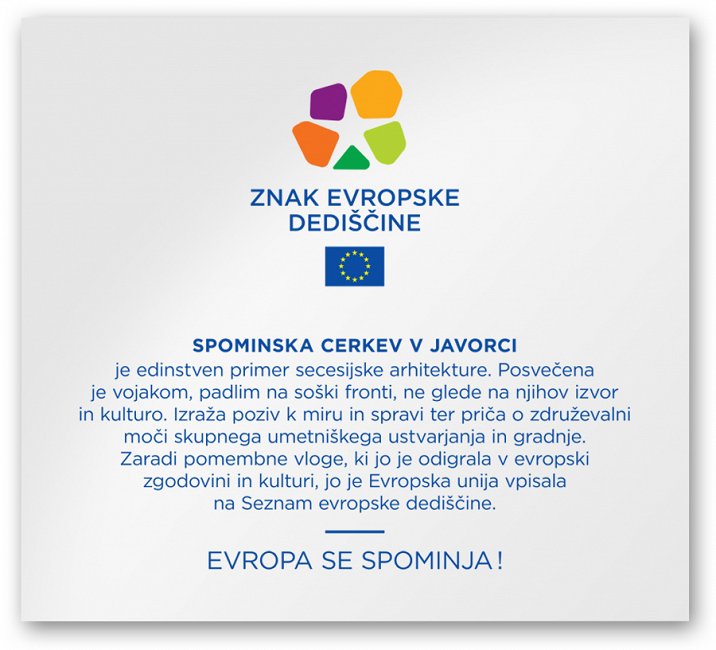 The Memorial Church of the Holy Spirit in Javorca is one of the nine memorial sites in the EU which the European Commission proclaimed in 2017 as the recipients of the European Heritage Label (EHL) – the highest European award for common heritage.
Javorca is a place of European memory covering the cultural landscape and the memorial church. This mountain landscape was reshaped by the military battles of World War I. During and after the war, this was the place of gathering for individuals with different national, cultural, language and religions backgrounds and a unique example of cooperation of individuals with a common objective to promote a humane attitude among people during the period when spiritual comfort was extremely important. These conditions were just right for the designers and constructors of the church to express their creativity and desire for peace. The exceptional symbolic value of the church was preserved to this very day.
Nowadays, Javorca is visited by relatives of the constructors and the fallen soldiers and also nature and history lovers. Even after a hundred years, its message is still relevant and expresses the importance of understanding common European values, a diverse but common cultural heritage, in particular in connection with solidarity, democratic values and human rights as the underlying principles of European integration process.
Various activities at the memorial site emphasise the importance of common roots, common history and common values of European nations with the objective to preserve the collective memory about solidarity and creative will during a difficult period. The timeless message of peace and the awareness that currently peace cannot be taken for granted is included in the youth education process. Guided tours of the memorial site and experiential workshops with the approach of experiential education provide the youth with a better understanding of the importance and values of Javorca. In order to emphasise the European importance and core values expressed by Javorca, i.e. peace, human dignity and equality through the respect of different cultures, religions and nationalities, the memorial site hosts several different events every year.
The message of Javorca is also being spread across Europe with the help of the exhibition entitled »One Hundred Years of the Basilica of Peace« which the Tolmin Museum prepared in order to mark the one hundredth anniversary of the existence of the church in Javorca. After its first display in 2016, the exhibition visited the Museum of Military History in Vienna (Austria), the Cultural Centre Lojze Bratuž in Gorizia (Italy), Villach (Austria) and the Czech Republic. Its guest appearance is also planned in other European countries.
Besides the Memorial Church in Javorca, the EHL was also received by 29 other locations and events in Europe. One of them is the Franja Partisan Hospital in Slovenia which received the label in 2015.
Which sites have been awarded the label?
Krapina Neanderthal Site, Croatia
The Heart of Ancient Athens, Greece
Archaeological Park Carnuntum, Austria
Leipzig's Musical Heritage Sites, Germany
Abbey of Cluny, France
Olomouc Premyslid Castle and Archdiocesan Museum, Czech Republic
Archive of the Crown of Aragon, Barcelona, Spain
Great Guild Hall, Tallinn, Estonia
Sagres Promontory, Portugal
General Library of the University of Coimbra, Portugal
The Imperial Palace, Vienna, Austria
Union of Lublin, Poland
Münster and Osnabrück – Sites of the Peace of Westphalia, Germany
The May 3, 1791 Constitution, Warsaw, Poland
Historic Ensemble of the University of Tartu, Estonia
Hambach Castle, Germany
Dohány Street Synagogue Complex, Budapest, Hungary
Fort Cadine, Trento, Italy
Charter of Law of Abolition of the Death Penalty, Lisbon, Portugal
Liszt Ferenc Academy of Music, Budapest, Hungary
Mundaneum, Mons, Belgium
Peace Palace, The Hague, the Netherlands
Javorca Memorial Church and its cultural landscape, Tolmin, Slovenia
Residencia de Estudiantes, Madrid, Spain
World War I Eastern Front Cemetery No. 123, Łużna – Pustki, Poland
Kaunas of 1919-1940, Lithuania
Camp Westerbork, the Netherlands
Former Natzweiler concentration camp and its satellite camps, France - Germany
Franja Partisan Hospital, Slovenia
Sighet Memorial, Romania
European District of Strasbourg, France
Robert Schuman's House, Scy-Chazelles, France
Bois du Cazier, Marcinelle, Belgium
Museo Casa Alcide De Gasperi, Pieve Tesino, Italy
The historic Gdańsk Shipyard, Poland
Village of Schengen, Schengen, Luxembourg
Pan-European Picnic Memorial Park, Sopron, Hungary
Maastricht Treaty, Netherlands
Archaeological Area of Ostia Antica (Italy)
Underwater Cultural Heritage of the Azores (Portugal)
Colonies of Benevolence (Belgium, the Netherlands)
Living Heritage of Szentendre (Hungary)
Kynžvart Castle – Place of diplomatic meetings (Czech Republic)
Site of Remembrance in Łambinowice (Poland)
Zdravljica - the Message of the European Spring of Nations (Slovenia)
Werkbund Estates in Europe
Lieu de Mémoire du Chambon-sur-Lignon (France)
The Three Brothers (Latvia)